It's november, and I've decided this month that I'm going to do 30 projects in 30 days. It's an all-month hack-a-thon!
Today's project is Hack-A-Machine (demo, source). It's a whimsical VM you can play around with.
I liked this one, but it really didn't fit into a day too well.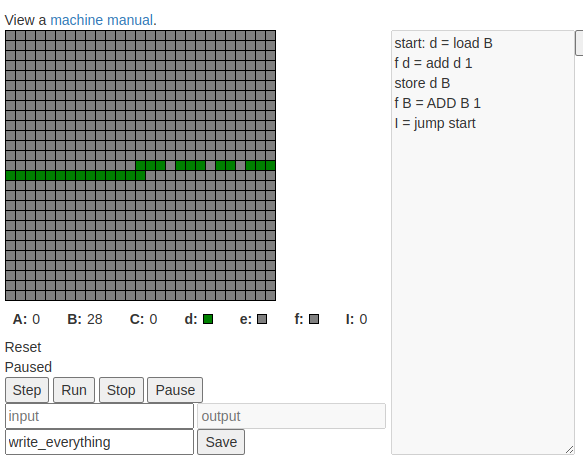 Features include:
Edit, save, and share programs!
Visual debugger with step, run, pause, and stop!
One example program!
Weird arithmetic!
Negative-364 based addressing!
"Touchscreen" display!
"Ticker tape" input and output!
21 never before seen instructions!
Optional registration!
Sadly not in the "one day" category are
good compiler errors
line numbering
line highlighting when stepping through code
syntax highlighting
the entire machine 100% working (I tested a little!)
fixing all the bugs (there's a particularly nasty one where you have to save before you run)