qr-backup v1.1 is released. qr-backup is a command-line Linux program. You can use it to back up a file as a series of QR codes. You can restore the QR codes using a webcam or scanner, and get back the original file.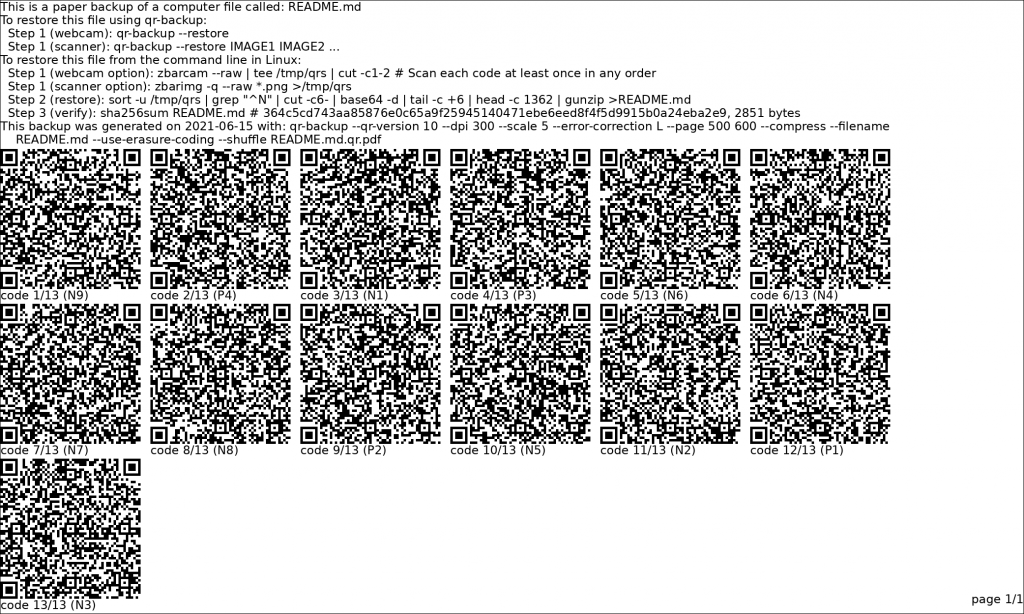 The main features of qr-backup are ease-of-use and futureproofing (restore does not require qr-backup).
Please report any bugs on github. Once this is stable, I will do the first pip/package manager release. To test the alpha, check out the latest code using git.
See also USAGE and extensive FAQ.
New features in v1.1:
Feature complete. New features are unlikely to be added. Future efforts will focus on quality, GUIs, and porting.
restore using qr-backup. Previously, the only restore was a bash one-liner (which still works).

qr-backup --restore restores using the webcam
qr-backup --restore IMAGE IMAGE IMAGE restores from scanned images

After generating a PDF backup, qr-backup automatically does a digital test of the restore process
Erasure coding. Lose up to 30% of QRs and restore will still work, as long as you are using qr-backup to restore
Increased code density, which about cancels out the erasure coding.
Back up directories and files. qr-backup makes a .tar file for you
Option to use password protection (encryption)
Option to print multiple copies of every QR code
Option to randomize order of QR codes
Optionally print extra cover sheet instructions on how to restore. For long-term archivists.
Option to add custom notes and labels to each page
Improved support for using qr-backup in a pipe
Various bugfixes
See CHANGELOG for complete details
P.S. As a special request, if anyone is on OS X, let me know if it works for you?